Vinagres El Encierro, S.L.
(Vinagres El Encierro)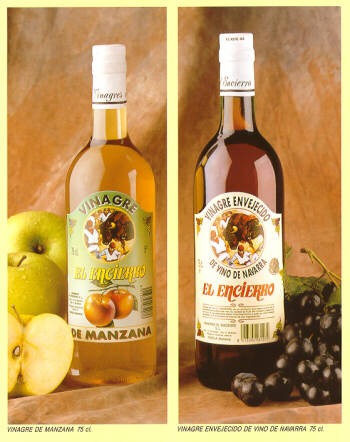 Pol. Ind. c/ B Apdo 171
31500 Tudela

Phone:

(+34) 948 822 894

Contact:

José Mª Luis Ibarrondo

Email:

elencierroinicia.es
TRADEMARKS:

El Encierro
Las Vinajeras
La Sotonera
EXPORTED TO:

France
Andorra
Portugal
DESCRIPTION
VINEGAR EL ENCIERRO

Vinegar The Encierro is a product elaborated from de acetic fermentation of the wine, Careful selection of the raw materials. Correct use of the fermentation system and adequate ripeness time achieves the quality that the consumers find in this product.
The pure vinegar of wine El Encierro regreshes up to the palate its origins, that is the wine maintaining intact its more characteristic comoponents.