Villafranca Oliver Chapas, S.L.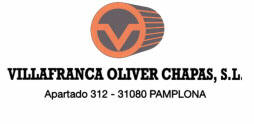 C/ Bélgica n.º 11 - Ciudad del Transporte
31110 Imarcoain

Phone:

(+34) 948 316 013

Contact:

Guillermo Villafranca Jimenez

Email:

villafrancaolivervillafrancaoliver.com
PRODUCTS:

Pine and Beech Plywood
Pine and Beech rotary veneer
EXPORTED TO:

France
Portugal
Turkey
Tunisia
Peru
Japan
DESCRIPTION
We are a company which distributed pine and beech veneer and plywood. Our familiar configuration allows us to give any kind of customers, national and international, personalized attention. We are able to produce veneer for different products such as curved panels, parquet, industrial panels, panel details, etc ... Also, from our plant in Chile, taking advantage of synergies in the market, we can serve plywood and veneer to any country in the world.