Videcart, S.A.
(Videcart)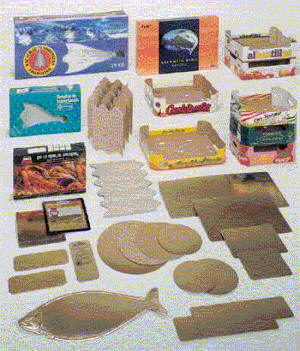 Cr. Aoiz, s/n
31486 Ibiricu de Egües

Phone:

(+34) 948 168 348

Contact:

Cesar Santesteban

Web Page:

http://www.videcart.es
TRADEMARKS:

Traycompact
Videnest
Packfort
Fishcomcompact
Videpack
PRODUCTS:

Salmon boards
Cake boards
Fish boxes
Layer pads
Fruit plateaux
Solid board dividers
Solid board boxes
EXPORTED TO:

France 20 %
United Kingdom 15 %
USA 15 %
Germany 10 %
Belgium 10 %
Norway 10 %
Greece 05 %
DESCRIPTION
Videcart, S.A., was founded in 1974 as part of the San Andrés Group of Companies. Now it belongs to the American company NEWARK Group of Companies. Its main activity consists of the lamination of solid board and the manufacturing of packaging from that source, with an annual out-put of 40.000 tonnes of board.Every product made by Videcart, S.A. are both recycled and recyclable.
The final products are used in different fields; fish boxes, fruit and vegetable plateaux, dividers and partitions, layer pads for palletising, and laminated board made with plastic films by the name of Traycompact.