M. Torres Diseños Industriales, S.A.- Papel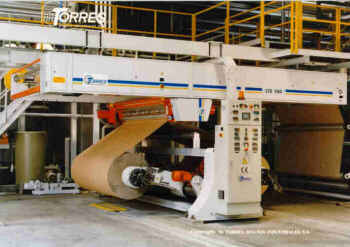 Cr. Pamplona - Huesca Km 9
31119 Torres de Elorz

Phone:

(+34) 948 317 811

Contact:

Juan Solano Suñer

Email:

m.torrespna.servicom.es
TRADEMARKS:

CTS Splicer
LTS Splicer
TSR Roll Stand
TH Roll Stand
PRODUCTS:

CTS Splicer
Heavy duty Roll Stand model TRS
Automatic Splicer model LTS
Fully automatic Roll Stand model TH
EXPORTED TO:

USA 20 %
Italy 16 %
United Kingdom 14 %
Germany 13 %
Argentina 04 %
Korea. North
DESCRIPTION
M. Torres Diseños Industriales S.A:, is a privately owned company founded in 1974 to design and manufacture equipment for the automation of industrial processes mainly at the paper converting industry.
Our firm desgns, manufactures and sales equipment to unwind and splice paper reels and others aplications for the paper industry.
Since 1986, oour company started a diversification process to develop equipment for the Aerospace Industry.