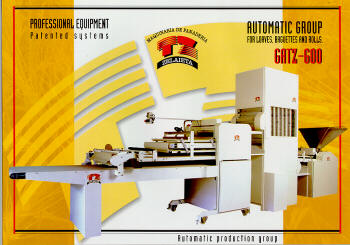 Polígono Industrial Zalaín, s/n
31780 Bera

Phone:

(+34) 948 631 004

Contact:

Iñaki Zelaieta San Sebastian

Web Page:

http://www.zelaieta.com
PRODUCTS:

Automatic Dividers
Mixers
Resting proofers
Machines to make clabatta bread
Horizontal moulders
Dough refining cylinders
Automatic groups
EXPORTED TO:

Mexico 19 %
France 13 %
USA 11 %
Italy 10 %
Argentina 06 %
Portugal 04 %
DESCRIPTION
We are exclusive manufactures of bakery as minery for Ordinary bread, Baghette, Rolls, Ciabatta,... Etc.
We do the assembly and the starting and have after-sales service as well as a maintenance service.