Talleres Etayo-Jiménez, S.A.
(Talleres Etayo-Jimenez, S.A.)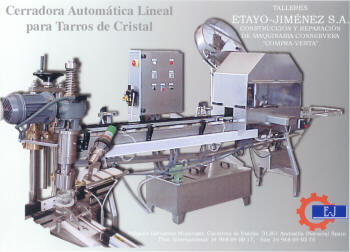 Pol. Ind., Parcela 5, Sector 4
31261 Andosilla

Phone:

(+34) 948 690 017

Contact:

Jesus Angel Sainz

Email:

tetayobancogui.es
TRADEMARKS:

Etayo - Jiménez S.A.
PRODUCTS:

Law seamers automatic
Label machine
Marking machine
Belt to fill
Bottle-seamers
EXPORTED TO:

Peru 68 %
France 29 %
Mexico 03 %
DESCRIPTION
Our factory manufacture, overhaul and technical asistance machenery any type; can seamers automatic and semi-automatic (SOMME, RUIBUS, SUDRY, BAILACH.) Can-washing machine, belt conveyor, cuting or slicing machine, belt to fill, feeder for can seamers, fillers, label machine, deposit, marking machine, etc…
We to make known ours bottle-seamers adaptable any body format.
We supplier of speare parts for ours machines. Other activity of the factory is to buy and to sale second hand machine.
We have one extensive store of this type machine. This is overhaul in the ours Talleres completely. (as news).
Ours machines have got the "(Marked CE)" acording to Directive 89/392/CEE and their modification.
We have the privilege of to be Official-Agent of the Company SOMME by Navarra and La Rioja.

All thi is back by one human-equipement hightly skilled which are enchantecl to attedn yours necessity.