Productos Kol, S.L.
(Mash)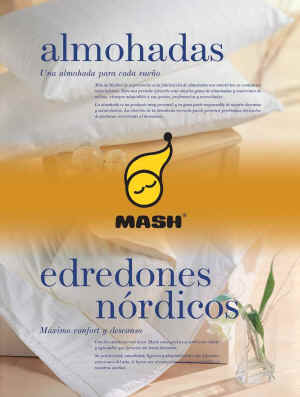 Pol. Ind. Rocaforte, s/n
31400 Sangüesa

Phone:

(+34) 948 430 200

Contact:

Maria Puy Lizarraga

Email:

naprokolcan.es

Web Page:

http://www.productoskol.es
PRODUCTS:

Pillons( singleand double cover)
Fiber Quilts
Down Quilts
Matress protectors
Cushons
EXPORTED TO:

Portugal 44 %
Mexico 28 %
Ireland 12 %
Cyprus 07 %
France 04 %
Malta 03 %
Others 1 %
DESCRIPTION
Quality of life, Quality of sleep. We open our doors to a world of dreams inside you´ll find every imaginable possibility for restful sleep:Pillows, Fibre quilts, Down quilts, Mattress protectors, Matress.
We are sure you´ll find what you are looking for. Our Long-standing experience in helping make sure your sleep well stands behind our invitation.