Bodegas Ochoa, S.A.
(Bodegas Ochoa)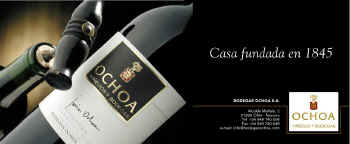 Alcalde Maillata, 2
31390 Olite

Phone:

(+34) 948 740 006

Contact:

Alvaro Ochoa

Email:

infobodegasochoa.com

Web Page:

http://www.bodegasochoa.com
PRODUCTS:

Ochoa Red Vendimia seleccionada
Ochoa Red Gran Reserva
Ochoa Red Reserva
OchoaRed Tempranillo
Ochoa Red Cabernet Sauvignon
Ochoa Rosé Lagrima
Ochoa sweet white wine
EXPORTED TO:

United Kingdom 27 %
Germany 24.5 %
Ireland 11.5 %
Switzerland 10 %
USA 08 %
Denmark 06 %
Norway 02.2 %
Netherlands 02.5 %
Sweden 02.5 %
Others 06.8 %
DESCRIPTION
Quality begins in the vineyard. To ensure this quality from its origins, at Bodegas Ochoa we only make wine with grapes from our own vines, planted, pruned and harvested by ourselves.
Years of investigation and experimentation have proved me that, to make a great wine, our viticulture must be focused on this target, even when it means a lower yield in our vineyards. Health and environment are essential as well: we are working in an integral viticultureregime, treating the land as our ancestords did, but with updated technology. Mechanization allows us to nurture our vines more exactly, and careful vinification lets us make a specific wine from every parcel, managing their evolution to create innovative wines.
Our vineyards cover 143 hectares. The oldest vines are located beside the new winery in Olite, and in our El Bosque Estate, at Traibuenas, where the largest part is planted. Traibuenas is a natural reserve some kilometres south of Olite, with an altitude of 400 metres. It is on lime an clay soil and faces South, which guarantees optimum sun exposure. Due to the low rainfall in our vineyardas, we develop an integral viticulture regime, respectful of the environment, reverting our grandparents generations working methods.
Javie Ochoa.