Navarra de Técnicas de Soldadura y Fijación, S.L.
(T.S.F.)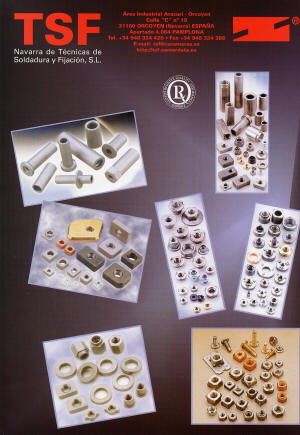 Area industrial Arazuri-Orcoyen, calle C, nº 19
31170 Arazuri

Phone:

(+34) 948 324 420

Contact:

Javier Fuentes Alvarez

Email:

tsfcamaras.org
PRODUCTS:

Nuts DIN 928 ,929, NES
Welding nuts according to drawing for automotive
Special thread and unthread parts
Security nuts for automotion and other sectors
Bolts for automotive sector
Screws in general
EXPORTED TO:

Austria
Germany
Mexico
Portugal
DESCRIPTION
TSF, is specialized in the supplying of production according to JIT, Kanban or programmes, of fasteners for automotive sector, wind turbines sector and other TSF, has in stock, for inmediate delivery the references of the followings: Volskwagen, FORD, OPEL, MERCEDES, PEUGEOT, PSA, NISSAN, MAZDA, TOYOTA, etc.