Navarra Food, S.A.
(Navarra Food)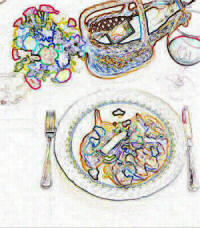 Cr. de Javier, Km. 1
31410 Yesa

Phone:

(+34) 948 884 030

Contact:

Miriam Marcalain

Email:

troutautovia.com
TRADEMARKS:

Truchas de Navarra
Navarra Trout
Forellen aus Navarra
Truites de Navarra
PRODUCTS:

Rainbow trout frozen
EXPORTED TO:

Germany 78 %
Switzerland 8 %
France 8 %
Denmark 5 %
Benelux 4 %
DESCRIPTION
Navarra Food, S.A., is one of the major European producers and exporters of rainbow trout. Our four fish farms are located in Navarra in Spain south of the Pyrences, in an area with many cold-water rivers. The purity of this water guarantees the high quality of Navarra thout.
We produce rainbow thout (salmo gairdneri.syn. Oncorhynchous mykiss) prtion-sized (150-400 grs.) cleaned (gilled and guted) packaged and quick-frozen, in line with the latest European Food Mealth regulations. Ready to cook. Our processing plat in Yesa is ISO 9002 accredited.