Mandriladora Leiza, S. Coop. Ltd.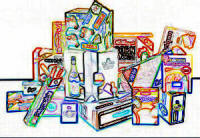 TRADEMARKS:

Fabricación tubos de cartón
Manipulado de papel
EXPORTED TO:

Portugal 57 %
Greece 31 %
Chile 04 %
Venezuela 08 %
DESCRIPTION
Manufacture of all kinds of spiral cardboard mandrels.
Speciality in mandrels for products for household use (aluminium foil, kitchen paper, transparent film, toilet paper) and rolls of paper for calculators and fax machines.
Customising of mandrels (printout in different colours).
Drying installation to obtain the proper degree of humidity.
Technical and quality office for studies and definition of optimum characteristics and control of ther compliance.