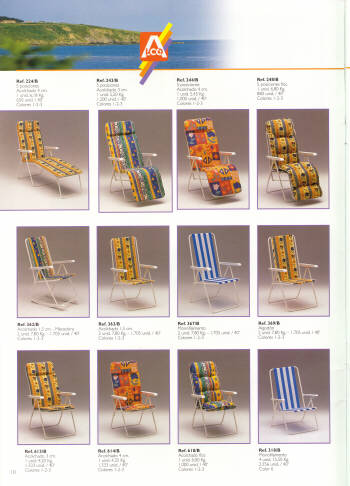 Barrio Zalaín, s/n
31780 Bera

Phone:

(+34) 948 628 200

Contact:

José Antonio Salaverría
PRODUCTS:

Camping chairs
Camping tables
Folding chairs
Garden tables
Cool boxes
Camping beds
EXPORTED TO:

Germany 27 %
France 24 %
United Kingdom 12 %
Austria 06 %
Norway 06 %
Ireland 06 %
Argentina 04 %
Sweden 03 %
Belgium 03 %
DESCRIPTION
Manufacturas Alco, S.A. , company founded in 1995, wording the export markets since 1970.
Furniture are made with frames in steel tube into different diameters and epoxi coated to protect furniture form its outdoor usage.
Most of the furniture are folding to make easy its moving. Garden table are made with resistant tops to the the dampness.
One of the star product in the export market is the Hammocks-Swings range, with a good relation in quality and price.
The last products line lauched out into the market is the T.U.V., so they fulfil required quality and resistance regulations.