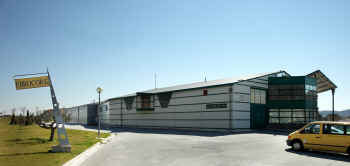 Cr. N-111, Km. 29,400
31131 Cirauqui

Phone:

(+34) 948 342 149

Contact:

José Lorente Prat / Gustavo Lorente Ucar

Email:

joseebrocork.com

Web Page:

http://www.ebrocork.com
PRODUCTS:

Corks for bottled of wine
Natural corks
Colmated corks
Elicork corks
EXPORTED TO:

France
Germany
South Africa
Hungary
DESCRIPTION
EBROCORK is family business created in 1987, dedicated to the Quality cork plugs preparation for tranquil wines.It´s installations enjoy the most modern techniques of preparation of the product, as well as the support of a complete laboratory to continue all the process of a product that complies extensively all the subject parametres to the Regulation in force. We count on the certificates UNITES IN ISO 9000:2000, offered by Lloyd´s Register and Certificate SYSTECODE that assures the quality continued of the plugs of cork, causing complying the International Code of practical in corks proposed by the C. E. LIEGE (European Confederation of the Cork ) and audited by Bureau Veritas.