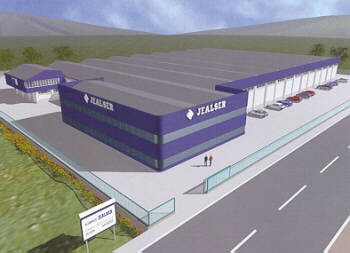 Cr. Guipúzcoa, Km. 8
31195 Elcarte

Phone:

(+34) 948 303 011

Contact:

Jesús Alonso Serna
PRODUCTS:

Aluminum profiles
Accesories for doors and windows
Machinerie
Profiles curving
Shutters
Joints de PVC
Kitchen equipment
EXPORTED TO:

Cuba
France
Martinique
Portugal
Mexico
Canada
DESCRIPTION
JEALSER, S.A., was founded in 1986; since then, we are acting in the construction industry and interior furnishing. The wide variety of our products have one thing in common: they are mostly of aluminum or related to it.
We are manufacturers and distributors of accessories to build kitchen furniture and clesets. As manufacturers, we are able to make all sorts of tailored parts based on aluminum.
Jealser products:
- Aluminum profiles.
- Accessories for doors and windows.
- Machinerie.
- Profile curving.
- Mechanised pieces in various materials.
- Shutters.
- False ceiling.
- Joint de PVC.
- Polycarbon & metacrilate sheets.
- Kitchen equipment.