Industrias Alimentarias de Navarra, S.A.
(Grupo Alimentario IAN)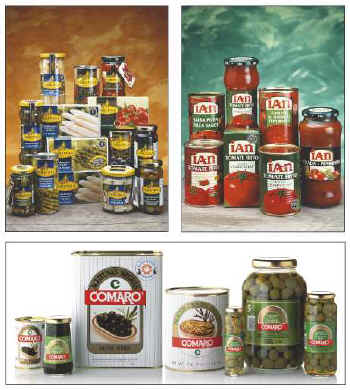 Pol. Ind. Peñalfons, s/n
31330 Villafranca

Phone:

(+34) 948 843 360

Contact:

Carlos Pardo Gaston

Email:

infogrupoian.com

Web Page:

http://www.grupoian.com
TRADEMARKS:

Morenita
Carretilla
IAN
Comaro
Alesves
PRODUCTS:

White and green Asparagus
Black and green olives
Crushed tomato and other tomato sauces
Piquillo peppers
EXPORTED TO:

France 32 %
USA 14 %
Canada 13 %
Italy 08 %
Portugal 06 %
Russia 05 %
United Kingdom 05 %
Germany 03 %
Others 09 %
DESCRIPTION
The IAN Food Group is made up of three companies: IAN S.A., COMARO S.A. and IAN PERÚ, S.A., in addition to various strategic alliances both within Spain and abroad.

This international focus has led to the fact that a third of the group's annual turnover can be accounted for by exports to 50 countries. In order to supply such a wide market, considerable production capacity is required. But most importantly, constant planning for the future is absolutely indispensable.

For this reason, we are currently developing a new strategy which is based on two main principles.


1.· Innovation: The launch of abre-¡ras! In 2002 marked a landmark in the world of canned products, which is being very favourably received by clients and end-users alike. In addition, the Research and Development Department's intense hard work has enabled us to have an ambitious programme of launches of new, exclusive and higher quality products.


2.· Development of the CARRETILLA brand : Our successful leadership of the Spanish asparagus market has allowed us to consolidate this brand. This consolidation has made the launch of new CARRETILLA products possible. All of this has been possible thanks to the brand policy put into practice since 1997 which, through a programme of continued investment in communications. This investment will be even further increased with the launch of new products.

At the same time, the Group maintains its strategy of adapting to its customers' needs and developing products under other brands, with pre-agreed quality and service in addition to large volumes.

This know-how, which has built up over the years has led to a considerable proportion of business coming from Distribution Brands, Copackers and Industrial Sales, with agreements involving products from our catalogue and other formulae developed ad hoc.

This push to innovate is also present in the growing Out of Home Catering sector which is approached through specific new formats and recipes for this type of consumption.

Finally, we must highlight the role of our staff as a cornerstone of the Group's development. Our personnel, with their effort and expertise, bring all of our future projects to fruition.