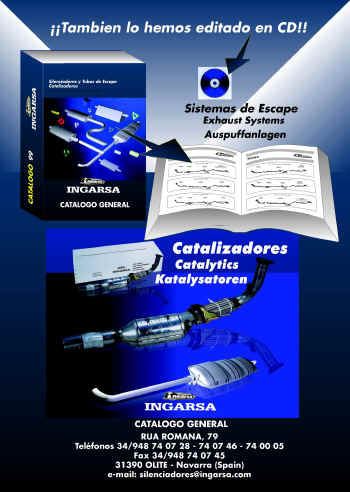 Rúa Romana, 79
31390 Olite

Phone:

(+34) 948 740 728

Contact:

Sonia Nanclares

Email:

silenciadoresingarsa.com

Web Page:

http://www.ingarsa.com
PRODUCTS:

Exhaust Systems
Mufflers and front pipes
Catalytic converters
EXPORTED TO:

Germany
Italy
United Kingdom
Portugal
Greece
Romania
Denmark
Israel
USA
Czech Republic
DESCRIPTION
The Company was founded in 1973.
Its dedicated to the manufacturing and sale of Mufflers and Catalytics for cars for the after-market.
Also the ten per cent of their production is dedicated to first equipment.
Almost fifty per cent of their production is for exportation.
Most of the products are homologated, under Directive EEC 70/157 recently change 96/20 for the Mufflers and ECE 103 for the Catalytics.
The high quality systems manufactured are made or alumninium, the reason of that high quality is the thickness of the sheet used (2mm thickness).
The warranty offered for any manufacturing fault is 2 years.