Extintores Moncayo, S.L.
(Exmon)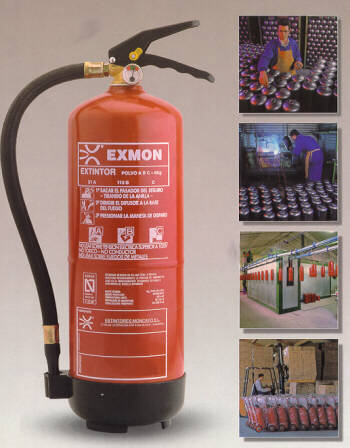 Cr. de la Estación, s/n
31540 Buñuel

Phone:

(+34) 948 832 002

Contact:

Ana Blanco

Email:

exmonctv.es

Web Page:

http://www.exmon.es
PRODUCTS:

Portable Fire Extinguishers
EXPORTED TO:

Portugal
Letonia
United Kingdom
Mexico
Ireland
Costa Rica
Iceland
DESCRIPTION
Extintores Moncayo, S.L, manufacturers of EXMON brand, was founded in 1993. The company manufacture a wide range of portable extinguishers of dry chemical powder, water, foam and CO in Steel and Aluminium. Also a complete list of accesories spare parts and hosereels.

We were aware with the quality system ISO 9000:2000 and we are according all european normatives EN3/1996, 971237CE and key mark.