Estampaciones Navarra, S.A.
(Esnasa)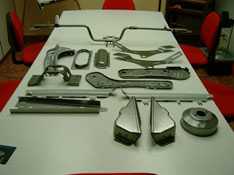 Pol. Industrial Potasas. Ctra salinas s/n
31191 beriain

Phone:

(+34) 948 310 855

Contact:

Luis Alberto Lazcoz

Email:

comercialesnasa.com

Web Page:

http://www.esnasa.com
PRODUCTS:

Stamping
Welding
Assembling
Tube Bending
EXPORTED TO:

Germany 50 %
Italy 40 %
USA 10 %
DESCRIPTION
ESNASA has 20 years experience in stamping, soldering, assembly and tube bending. Our main client base in European automotive sector. The key of our growth and success are quality and reliability (ISO 9002, TS 16949), integral service, the flexibility of our 41 people as well as our experience.