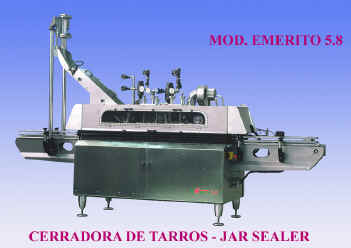 Ctra. Mendavia-Logroño, Km. 0,5
31587 Mendavia

Phone:

(+34) 948 685 107

Contact:

Hugo Arteaga Sainz

Email:

infoemerito.com

Web Page:

http://www.emerito.com
TRADEMARKS:

Emerito
Arteaga Trading
Canning Food Lines
PRODUCTS:

Jar Sealer Machine
Dispenser system
Security vacuum detector
Casing Machine
EXPORTED TO:

France 06 %
Italy 07 %
Greece 07 %
Canada 15 %
USA 15 %
Brazil 20 %
Portugal 30 %
DESCRIPTION
EMERITO, S.L., design, manufacture and commercialize machinery for different process in the food sector.
Products:
Twist jar sealer machine, for every formats used in alimentation.
Dispenser-fillers, for liquid sauges, solids and mixtures.
Casing machine for rectangular , square.. Formats
Emerito S.L. develops, manufactures and markets machinery for various processes in the food industry.
- Consolidated history. More than 30 years providing solutions to the food industry.
- Certified quality. ISO 9001.
- Versatility. We take care of the needs of any company, whatever its size: companies that preserve vegetables, fruits, legumes, sauces, pâtés, fish, etc., find the perfect solutions in processing technology at our company.
- Highly competitive products.
- Specialists in cappers
- Emérito Technology: stainless steel and latest generation equipment
- The best price/quality relationship
- Internationally tested products.
- Research and development (R&D) Our technical office, which is in permanent contact with Management, Marketing and Production, is continuously innovating in order to develop new products and improve processes.
- Human Resources. Our greatest wealth is our team: a qualified staff that receives constant training.