Control de Porciones, S.A.
(Coposa)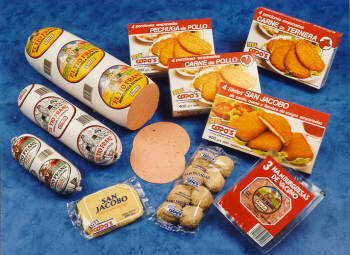 Pol. Ind. s/n.
31550 Ribaforada

Phone:

(+34) 948 864 143

Contact:

Francisco Kurtz Rodrigo

Email:

lob.coposanexo.es
TRADEMARKS:

Chefranz
Nicklas
Steacopos
Chef Carl
PRODUCTS:

Frankfurt type boiled sausages
Mortadella
Cold turkey meat, boiled chicken breast
Chopped
Frozen hamburgers
San Jacobos
EXPORTED TO:

Greece 80 %
Portugal 20 %
DESCRIPTION
COPOSA is a familiar company, founded 50 years ago. We elaborated fresh, frozen and boiled meat products, pork, beef and poultry are our raw materials.
The most important factors are our high qualified staff and our advanced technology. Our main products are frankfurt type boiled sausages, mortadellas, pates, frozen hamburgers, meat balls and San Jacobos. Portions for collective catering for large consumers.