Compuestos y Granzas, S.A.
(CYGSA)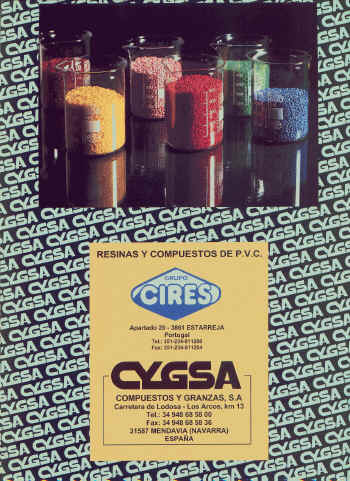 Cr. Lodosa - Los Arcos, Km. 13
31587 Mendavia

Phone:

(+34) 948 685 800

Contact:

Javier María Sampedro

Email:

compuestosygranzascygsa.es

Web Page:

http://www.cires.pt
PRODUCTS:

PVC plasticised
PVC plasticised compounds
PVC Rigid compounds
DESCRIPTION
PVC plasticised and rigid compound for extrusionor injection (granulated or dry blend)
PVC plasticised compounds:
-Covering and isolations
-Covering of wire and textile cords
-Hosing and plasticised profiles
-Footwear
PVC rigid compounds:
-Pipes and profiles
-Injected pieces
-Bottles
Retardant polyolefin modified flame compounds and thermoplastic rubbers.