Bodegas Vicente Malumbres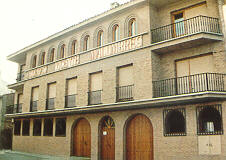 Santa Bárbara, 15
31591 Corella

Phone:

(+34) 948 401 920

Contact:

Javier Malumbres Martínez

Email:

infomalumbres.com

Web Page:

http://www.malumbres.com
TRADEMARKS:

Malumbres
Viña Ontinar
PRODUCTS:

D.O. Navarra wines
Teazles
Teazles Seed
EXPORTED TO:

Germany 68 %
United Kingdom 08.26 %
Italy 07.26 %
Switzerland 04.84 %
Netherlands 04.70 %
Denmark 01.90 %
Belgium 01.21 %
France 01.14 %
Austria 01.04 %
Others 01.05 %
DESCRIPTION
Bodegas Vicente Malumbres is a family business located in Corella, in the south of Navarre. The Malumbres business also includes the manufacture of teazles and teazles seed.
Quality comes before yield for this specialist Bodega. They make their wines almost exclusively from their own grapes, which means there is continuity in quality throughout the vintages.
Vicente Malumbres wines lave recently won awards, among them in the prestigious Blayais Bourgeais Tasting competitions in Bordeaux. The specialist press has also praised the bodegas wines.