Bodegas Irache, S.L.
(Bodegas Irache)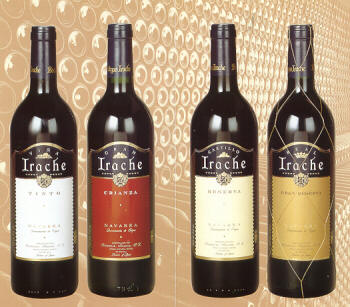 Monasterio de Irache, 1
31240 Ayegui

Phone:

(+34) 948 551 932

Contact:

Conchi Roig

Email:

iracheirache.com

Web Page:

http://www.irache.com
TRADEMARKS:

Irache- Prado Irache
Viña Irache. Gran Irache
Prado Irache
Real Irache
Fuente de Irache
PRODUCTS:

Tempranillo Irache(Tinto) Crianza.
Irache (Rosado y Blanco)
Gran Irache (Tinto ) Crianza
Prado Irache Tinto. Reserva
Merlot Irache ( Tinto) Crianza
Castillo Irache (Tinto Reserva)
EXPORTED TO:

Switzerland
Germany
Belgium
Netherlands
Sweden
Denmark
United Kingdom
USA
Others
DESCRIPTION
Bodegas Irache dates from 1891 . Family winery that combines tradition with the modern methods of production and bottling. Placed in the way to St. James Wine Fountain, opened to the public seven days per week.
Premises: ageing cellar with a capacity for 10.000 oak barrels of 225 litres. 23 stainless steel deposit with a capacity of 70.000 litres. Wine museum. Bottling Plant.
Production: over 10 million litres per year.
Products:red wine( young, crianza, reserva and gran reserva), white wine ( young and crianza) rose wines.

Relevant information 2002 year: 8 prizes awarded ( 7 of them International prizes) to 5 of our wines. Our Gran Irache 98 has been the wine with most awards.