Bodegas Piedemonte, S. Coop.
(Bodegas Piedemonte)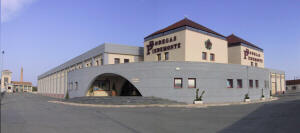 Rúa Romana, s/n
31390 Olite

Phone:

(+34) 948 712 406

Contact:

Javier Torres

Email:

bodegapiedemonte.com

Web Page:

http://www.piedemonte.com
TRADEMARKS:

Piedemonte
Oligitum
Memorandum
Viña Egozcue
Palacio de Beire
PRODUCTS:

Reserva Red Wines D.O.Navarra
Crianza Red Wines D.O. Navarra
Yuung Red Wine D.O. Navarra
Viura White Wine D.O. Navarra
Sweet Wine D.O. Navarra
EXPORTED TO:

United Kingdom 47.40 %
Germany 19 %
Sweden 17 %
Switzerland 04 %
Japan 03 %
USA 02 %
Denmark 01.9 %
Ireland 01.2 %
Canada 00.8 %
Norway 00.98 %
DESCRIPTION
Since its origins in 1993, Bodegas Piedemonte has carrefully produces its wines.
Its 450 ha. Of own vineyards as well as state -of- the-art tecnology allow Bodegas Piedemonte farming experts and enelogist to control the wine producing process from the selection of grapes, maturity and fermentation, until the ageing of its crianzas, reservas and gran reservas in 3000 american and french oak barrels, faithful as any other to the navarra wine producing tradition.