Bodegas Corellanas, S.L.
(Bodegas Corellanas)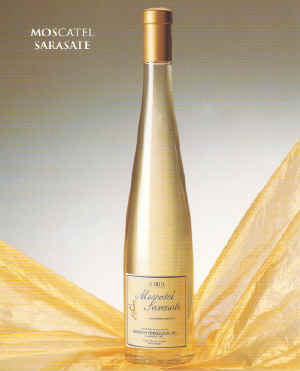 Santa Bárbara, 29
31591 Corella

Phone:

(+34) 948 780 029

Contact:

José Daniel Ausejo Asiáin

Email:

bcorellanasline-pro.es
TRADEMARKS:

Viña Rubican
Marqués de Sarasate
Marqués de Sarasate
Moscatel Sarasate
PRODUCTS:

Reserva Red Wine 97 Viña Rubican
Rose Wine Viña Rubican
Red Young Wine Viña Rubican
Rose Wine Viña Rubican
Sweet Wine Sarasate Moscatel
Rose Wine Marques de Sarasate
EXPORTED TO:

Germany 56 %
Netherlands 24 %
France 20 %
DESCRIPTION
Moscatel Sarasate-

Is anatural sweet wine made from muscatel grapes of the small Petit Grain type, from our own vineyards in Tambarria, 38 years old. It is obtained in late vintage from raising grapes, with a great content in beaume and potential aroma.
Is a natural sweet wine with a very brilliant light yellow colour with golden sparks, with a great aromatic sensation, well balanced and with perfectly equilibrated acidity which gives a fruity sensation , with a generous aftertaste.

Viña Rubican Reserva
Red wine comes from Cabernet Sauvignon, Merlot y Tempranillo varietes, keeping it for 12 months in American and French oak barrels, and at least 24 months in the bottle.

This wine has a cherry-red colour with tile and amber shades. The aroma has a great fineness with mature fruits combined with the wooden breeding. It has fleshy, wel structures flavour, with a long lasting end. It is a perfectly balanced wine with the mature and soft tannins that fills the palate with pleasant sensations.

Viña Rubican Crianza
85% Tempranillo and 15% Garnacha varietes from our own vineyards. This wine has a medium-high level ruby red colours. The aroma starts with the variety definition , well accompanied later by a soft torrified and finishing with a touch of liquorice.