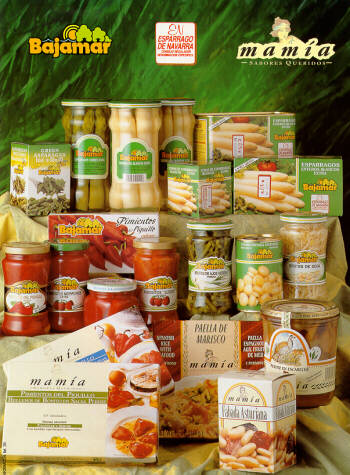 Cr. Sangüesa, s/n
31310 Carcastillo

Phone:

(+34) 948 725 000

Contact:

Angel Villaroya Berna

Email:

bajamarbajamar.es
TRADEMARKS:

Bajamar
Mamía
Brottes
PRODUCTS:

Spanish rice with seafood
Stuffed piquillo peppers
Stew of vegetables
Cooked vegatables
White asparagus
Fire roasted morron peppers
Gazpacho (vegatalbe cold soup)
EXPORTED TO:

Italy 41 %
France 18 %
USA 10 %
Andorra 8 %
Netherlands 5 %
El Salvador 3 %
Argentina 3 %
Others 12 %
DESCRIPTION
Bajamr, S.A., is specialized in the production of three product line:
- Mamia Ready Meals: These dishes are based on the traditional spanish cousine such as; Paella (Spanish Rice with dea food), Stuffed Piquillo Peppers, Stew of vegetables, Gazpacho (Vegetable cold soup) and Cooked vegetables, as well as ready meals based on meat.
- White and Green Asparagus Spears: White Asparagus Origin Denomination of Navarra and Green Asparagus in tins and jars.
- Piquillo and Morrones Peppers : Roasted fired peppers from the Ebros Valley presented in several types and formats.

Our range of produts are suitable for: Retailers (Supermarket, HiperMarkets, etc...), Catering and Food Service.