Cerámica Añon, S.L.
(Añon)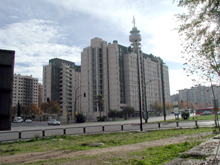 Ctra. De Alfaro 46
31500 Tudela

Phone:

(+34) 948 820 048

Contact:

Fernando López

Email:

anoncaravistablanco.com

Web Page:

http://www.caravistablanco.com
TRADEMARKS:

Blanco Tudela
Gris Levante
Blanco Moncayo
Gres Añon Bardenas
PRODUCTS:

Bricks
Ceramics Bricks
Klinker Bricks
Facing Bricks
EXPORTED TO:

Portugal 90 %
France 10 %
DESCRIPTION
Cerámica Añón S.L., a company located in the town of Tudela in the Navarra region, has been making light tone face brikcs since 1.920, which has made Blanco Tudela, made from Tudela clay, one of classic construccion products.
When Cerámica Añon recently received the AENOR certificate for its traditional Blanco Tudela and Gris Levante products, thereby testifyng to a Quality Guarantee System in line with the UNEEN ISO 9002 Regulation, it was the reward for a great deal of effort and dedication to quality in business.