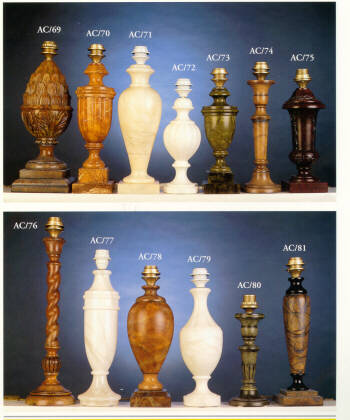 Barón de la Torre, 91
31592 Cintruénigo

Phone:

(+34) 948 811 095

Contact:

José Javier Alvero Trincado

Email:

alverocamerdata.es
PRODUCTS:

Table lamps
Wall bracket
Ceiling bowl
EXPORTED TO:

USA 60 %
Netherlands 13 %
Italy 05 %
United Kingdom 04 %
Brazil 03 %
Portugal 03 %
Singapore 03 %
Canada 02 %
France 02 %
Malaysia 02 %
DESCRIPTION
Navarra bring light to the world
Alabastros Alvero traditionally selects the purest alabaster and avails itself to the best characteristic of the stone, its white translucence, its marble effect, to create beautiful objets for interior decoration and lighting.
Our team of experts select the most adaptable material. Then our group of designers insure that it will be fashioned into an original desgn, wether classical in an innovative modern design, ensuring always a proper finish by the traditional skills of craftmanship.
Quality, craftmanship and innovative design are the keys of our success. Our firm, Alabastros Alvero is firm in full expansion, that has earned an international reputation in competitive markets such as Europe, America and Asia where we export 90% of our production.