Agrícola San Blas de Ribaforada, S. Coop.
(Agrícola San Blas de Ribaforada S. Coop.)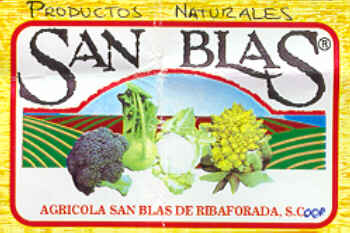 Av. Del Carmen, s/n
31550 Ribaforada

Phone:

(+34) 948 864 086

Contact:

Eduardo Ramirez Ochoa

Email:

administracionagricolasanblas.net
TRADEMARKS:

San Blas
San Broko
PRODUCTS:

Broccoli
Cauliflower
Romanescu
EXPORTED TO:

United Kingdom 75 %
Germany 15 %
Portugal 05 %
France 05 %
DESCRIPTION
Our company is specialised on the production of broccoli and Cauliflower, for that production we undertake the integrated crop management, which implies a strily control on the harvesting and manufacturne of our products.