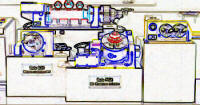 Pol Ind Landaben, C/A, S/N
31012 Pamplona

Phone:

(+34) 948 286 006

Contact:

Felix Galé

Email:

irumoldirumold.com

Web Page:

http://www.irumold.com
EXPORTED TO:

USA 35 %
Germany 23 %
Finland 05 %
Austria 01 %
DESCRIPTION
IRUMOLD is specialised in the designing and manufacturing of Ultra High Precision multi cavity Molds since 30 years.

IRUMOLD is a modern, competitive, efficient and innovative company focused always on the Customer. IRUMOLD Customers are mainly multinational companies with massive productions that work in Europe, Asia and USA, leaders in producing packaging parts like pumps, aerosols; closures (in mold closing); pharmaceutical and medical parts (clean room) as well as multi-components parts.

IRUMOLD is certified with the ISO 14001:1996, and was also one of the first moldmakers in obtaining the ISO 9001:2000.