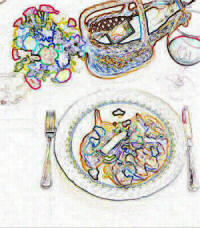 Pol. Ind. Aoiz s/n
31430 Aoiz

Phone:

(+34) 948 336 090

Contact:

Alvaro Zubeldía

Email:

bacalaogransol.com

Web Page:

http://www.gransol.com
TRADEMARKS:

Gran Sol
Navegante
Oromar
PRODUCTS:

1 - Desalted, deep-frozen codfish:
ready to cook cod
fillet, medium fillet cotumbled fish
2 - Cooked deep-frozen dishes
codfish full piquillo red peppers
codfish meatball
salads
EXPORTED TO:

Portugal 90 %
Brazil 10 %
DESCRIPTION
Bacalao gran sol selects cod of the highest quiality before submitting in to the strictes of internal controls so as to fully guarantee its suitability for preaparation. Next, it goes through the temperature-controlled desalting process and immediately deep-frozen, thereby enabling the fish to conserve both its organoleptic propierties and characteristic texture and flavour.